OfficeHQ's virtual receptionists are answering 5 million calls each year for businesses globally and playing a pivotal role in helping some survive the pandemic.
Our company has embraced a work-from-home model for more than a decade, with virtual receptionists answering calls for businesses of all sizes across Australia, New Zealand, the United States and United Kingdom.
But over the past 18 months we have also proven ourselves a key partner for many businesses who have suddenly found their teams working remotely due to lockdowns.
This includes Camps International, a social enterprise that specialises in life-enhancing expeditions for students, whose Asia/Pacific Director Rory Hall describes OfficeHQ as "a real game-changer" for its Melbourne-based Australian office.
Mr Hall said Camps International initially signed up for virtual reception services "to try to streamline our processes and make things a bit simpler in a small office".
"Then Covid struck, we had to get out of the office and we wouldn't have survived without it, to be honest," he said.
"Having the knowledge that somebody was taking care of our phones and taking our calls from our customers, without having to worry about people being spread everywhere, was just fantastic."
OfficeHQ employs more than 140 receptionists on the Sunshine Coast. They all work from home, take messages, screen and transfer calls as appropriate, take orders, process payments, schedule appointments, manage cancellations and much more.
The company has been recognised three times in the Sunshine Coast Business Awards, this year collecting the Trades and Services (Large Business) category trophy during Saturday's gala celebration at Sunshine Coast Convention Centre.
Chief Operating Officer Luisa Di-Finizio, who accepted the award at the gala, said it was "fantastic recognition for all of the amazing work by each and every one of our team".
"Winning this year is extra special as the last 18 months have been like no other with the challenges of the pandemic," she said.
"We take immense pride in helping other businesses thrive. Not having missed calls – and having callers always connect with a human – typically translates into greater customer satisfaction, more leads or sales and increased revenue for our clients."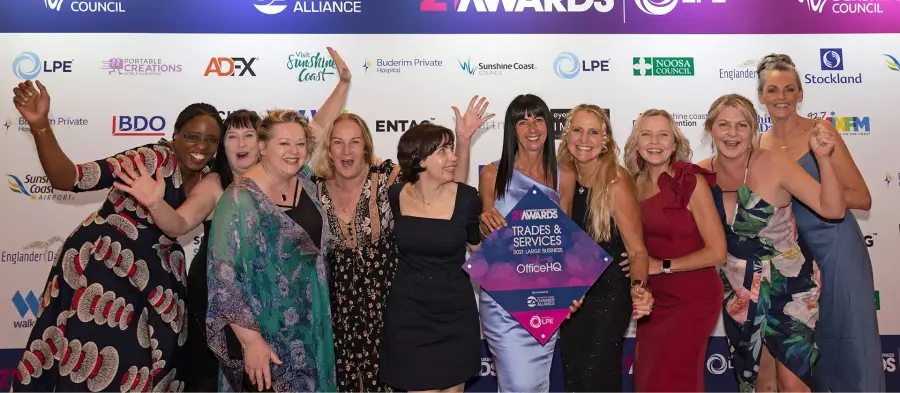 OfficeHQ was founded in Sydney in 2003 by Chief Executive Officer David Atkinson, with an in-house built VOIP platform and just a handful of receptionists. In the early days, he would even pitch in to answer the phones during busy call periods.
Following on from the opening of a training and operations centre on the Sunshine Coast in 2006, our head office is now located in Wises Rd, Buderim.
Offering subscription-based business solutions with no lock-in contracts, making it cost-effective for sole traders through to major corporations, OfficeHQ has enjoyed accelerated growth over the past two years. Its Australian customer base and Australian workforce have respectively increased 46% and 72% in that time.
Almost 90% of OfficeHQ's employees in Australia are based on the Sunshine Coast, yet about 90% of our revenue globally is derived from providing services to businesses outside the region.
After the 2021 Sunshine Coast Business Awards success, David told OfficeHQ staff: "It really is a team effort to win this award so a big congratulations to all of you! We enter these awards to bring recognition to the team … You all should be very proud!"