Every lead you generate has a time or dollar cost associated with it. So, why do the hard work to attract leads and then risk losing them?
This question is particularly pertinant for real estate agents. And the next question is: How much would it cost you if you did lose a lead? Would it be $5,000, $10,000, $20,000 or even $30,000?
Not taking a call can be crucial. Not only because the person may not leave a message, but also because the call may be left by someone that has "No caller ID". If you cannot pick up your phone or you don't answer and they don't leave a message, that lead may be lost. Forever.
Sure, some of these callers can be wasting your time trying to sell you something you do not need but every call should be answered if you do not want to risk losing a lead.
For the Downsizing Masterclass Events I've ran with Belinda Woolrych, taking registrations (direct leads) from seniors, it's been noticeable that many of them do have their phones set to show "No caller ID". When I have missed a call and have had no way of calling them back, I cannot help think of it as a missed opportunity.
Yes, I do have voicemail, however some people choose not to leave messages and you can never guarantee they will leave their number.
Most calls to real estate agents end up going to voicemail
I find it interesting that 7 out of 10 calls I make to real estate agents go through to voicemail and the most common message heard is along the lines of, "I'm sorry I cannot take your call right now … please leave a message." In my opinion, this is a gamble.
If you are time-poor or with clients, you may rely on your message bank, but you need to realise this is no longer a lead-catching net. It may have been once upon a time, but these days, people are impatient and if they cannot get through to you they may simply call the next agent in line.
Missing a business phone call equates to missing the business
The below stats are taken from a survey recently completed on Australian Caller Preferences and Attitudes When Contacting a Business, with the research conducted by ACA Research on behalf of OfficeHQ.
Not surprisingly, 84% of survey respondents said: "If my call is not handled well, I will go elsewhere."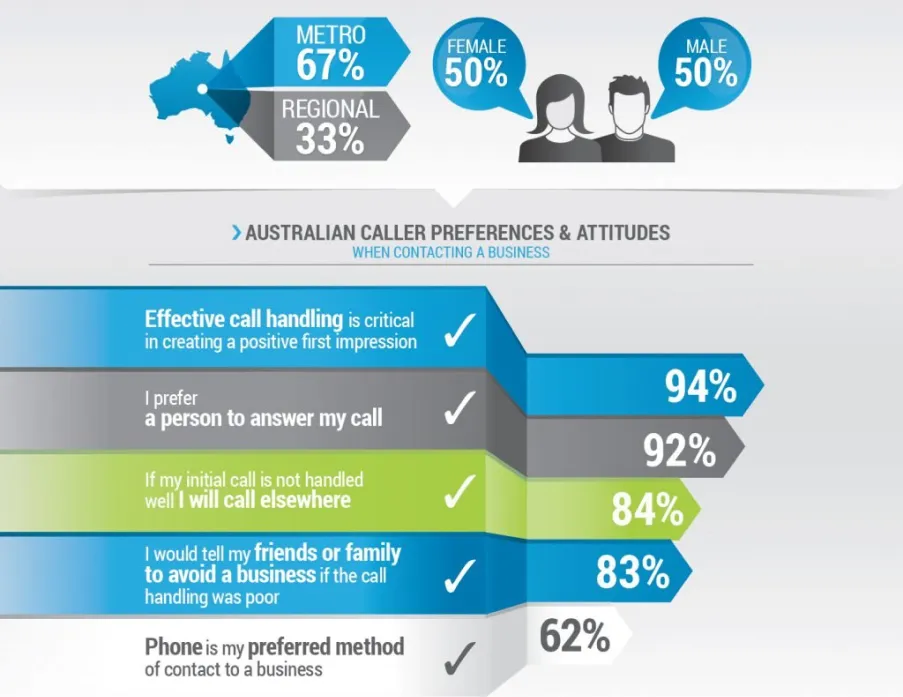 More than nine out of 10 respondents expressed a preference for an actual person to answer the call, indicating a dislike for voicemail.
Furthermore, the survey found that the top three irritations relating to calling a business included the call being answered by someone off-shore or by technology rather than a human.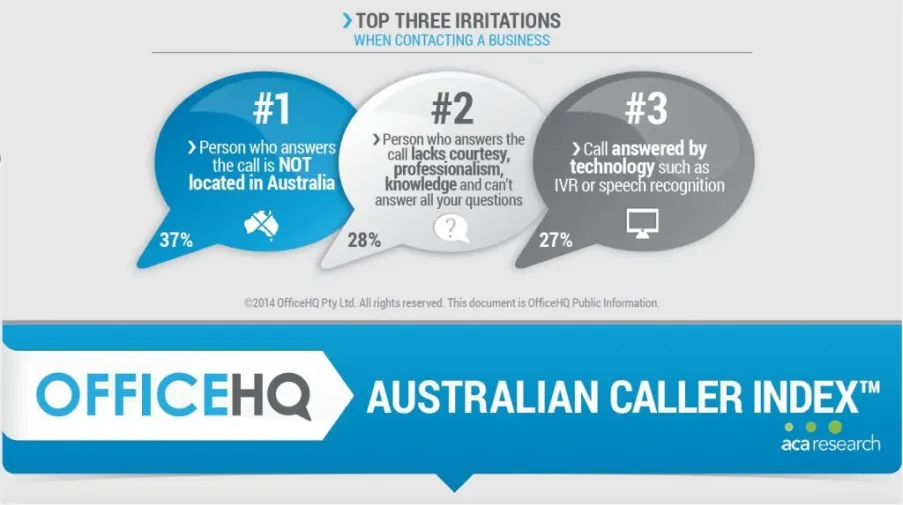 These statistics clearly show the value of having a live answering service with calls being answered in a courteous and professional manner.
How you can set yourself apart from other real estate agents
I called a real estate agent today and it prompted this blog. He was using a business phone answering and message service that was excellent and set him apart.
Why? My message was taken by a real person who had time to even have a little chat. She was not his PA, just a friendly professional that assured me the agent would call me back. So refreshing. Not only did this tell me the agent highly valued his clients on a communication level, it also told me that he did not want to miss a lead.
The Australian real estate industry is highly competitive and if you work hard, you should be rewarded. It is therefore important to ensure your first point of contact, if not direct, is as personal as can be.
There are incredible resources out there to help you thrive as a real estate agent or agency, and from a consumer's perspective, it is the little things that make all the difference. This includes being able to have virtual receptionists schedule appointments and assist with various other tasks through integrations with software you may already use.
Best of all, OfficeHQ offers a seven-day answering service free trial and if you decide to go ahead with one of their cost-effective plans, you'll likely love that there's no lock-in contract, meaning you can scale the service up or down as demand warrants.